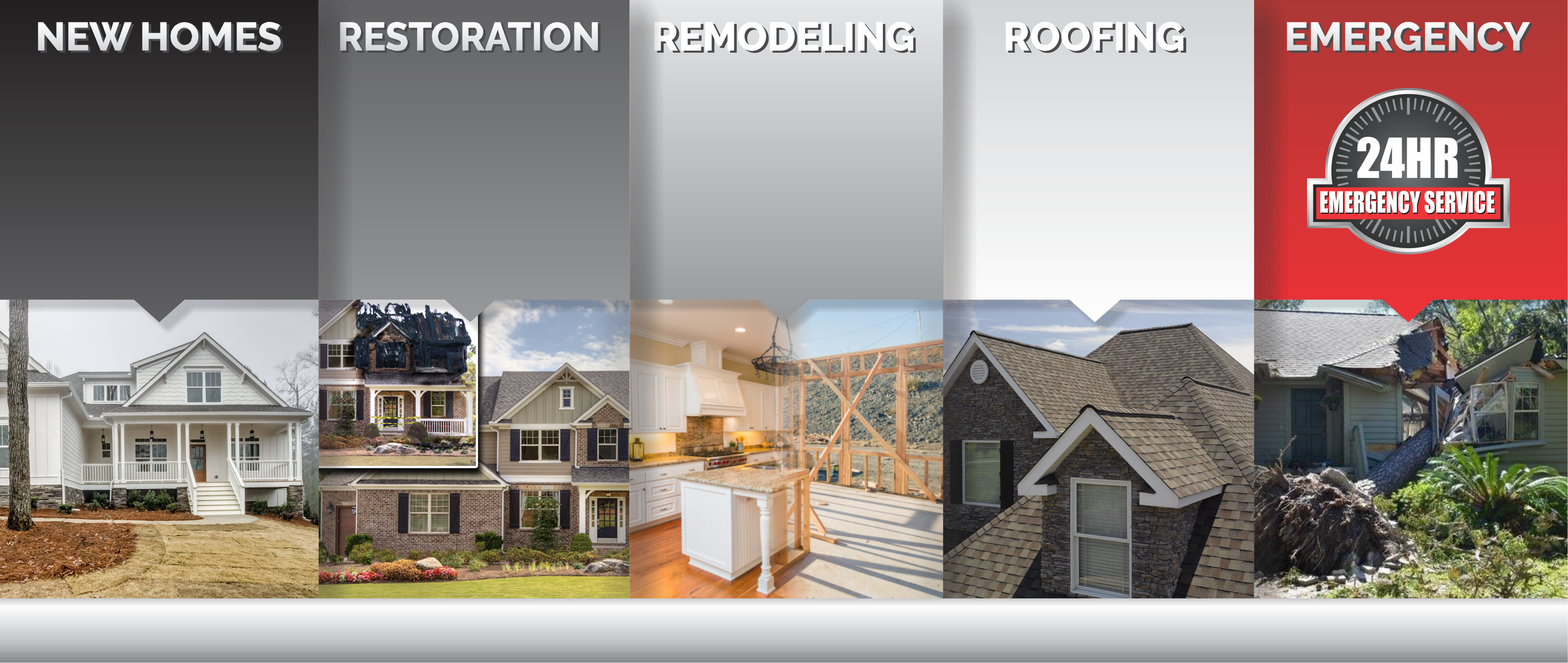 CALL NOW!
- CUSTOM BUILT

- AMAZING FLOOR PLANS

- NEIGHBORHOOD DEVELOPMENTS

- NEWEST DESIGNS


- INSURANCE CLAIM REPAIRS

- FIRE | WATER | STORM DAMAGE

- WATER MITIGATION

- LARGE LOSS SPECIALISTS


- ADDITIONS & EXTENSIONS

- BASEMENT FINISHING

- KITCHEN RESTRUCTURE

- BATHROOMS & MORE!


- REMOVAL & INSTALLATION

- PATCHES & REPAIRS

- SHINGLES, GUTTERS, SIDING

- PROFESSIONAL INSTALLERS


CLICK HERE
CLICK HERE
CLICK HERE
CLICK HERE

Our services have got you covered!
Riverstone Homes offer a wide variety of services. From having a custom dream home built to fixing where a tree fell on your roof. Additions, Remodeling your kitchen or bath to new decks and patios. Give us a call, and get your FREE quote today!
24 Hour Emergency Services
FIRE DAMAGE | WATER DAMAGE | STORM DAMAGE EXPERTS 
Looking for a Contractor?
Riverstone Homes & Restoration is a full service contractor specializing in new home construction, property damage services and remodeling. We have been proudly serving North Metro Atlanta since incorporating in 1997 and President Jamey Cagle has been a well respected contractor in North Georgia since 1989. Our team is highly focused on customer satisfaction and our attention to detail and quality is second to none. Whether you are in need of quick response from one of our emergency service teams or looking to build your dream home or wanting to remodel your current home Riverstone Homes & Restoration has you covered. We are your locally owned total home care specialist.
Reliable Service for Over 20 Years!
Serving the North Georgia and Atlanta surrounding areas since 1998
Custom Built Homes
Over 1.200 new homes built since 1998. From modern the contemporary, we've built them all. Riverstone homes developed strong neighborhoods and custom getaway homes with quality materials and long lasting results.
Restoration & Remodeling
Our home remodeling consultants will work with you every step of the way, offering quality advice to develop the remodeling plan that is right for you. Whether you need a roof, siding, windows, additions, flooring, kitchens, baths, or a new entry door, call us for a FREE estimate today!.
24 Hour Emergency Service
All of our team members are professional, courteous and understand the emotions involved in property damage and are here to serve all your needs. Feel free to contact us today with any questions and feel free to ask us for any references from our past clients or our insurance agents that trust Riverstone Homes daily with their clients. We look forward to serving you during your time of need and are anxious to get your home to better than ever.
Quality Products
Known the products and materials used in and on your home is key. We strive to get you the best products for your project. Here at Riverstone Homes we only use the highest quality of materials in the industry on your home. So your mind can be at ease with the safety and protection of any structure built by Riverstone Homes. 
Restoration, Remodeling and Renovating
After a disaster, it can be tough to figure out how to get back to normal. We can help with that. With over 20 years of experience, we can get your home back to normal.
What Other Clients Say
Exceeded my expectations from start to finish! Glen, General Manager is friendly but professional and knows his business. Don't hesitate in choosing Riverstone. You wont be disappointed.

We had a water issue in which our washing machine dumped all 25 gallons of water all over our brand-new, 2-day-old floors around 6p on a Tuesday evening. Living right near Riverstone - and having read the other great reviews - I called and explained the situation. The guys came out within 45 minutes, tore up the floors, made the ventilation cuts, setup the fans and dehumidifier, and were gone in less than 2 hours. They were complete gentlemen and took incredible care of us.  I've loved working with Riverstone and am so glad I called them!

We had to call about our new housevery few times, but when we did Riverstone was wonderful! We love our Riverstone Homes! Thank you Jamey!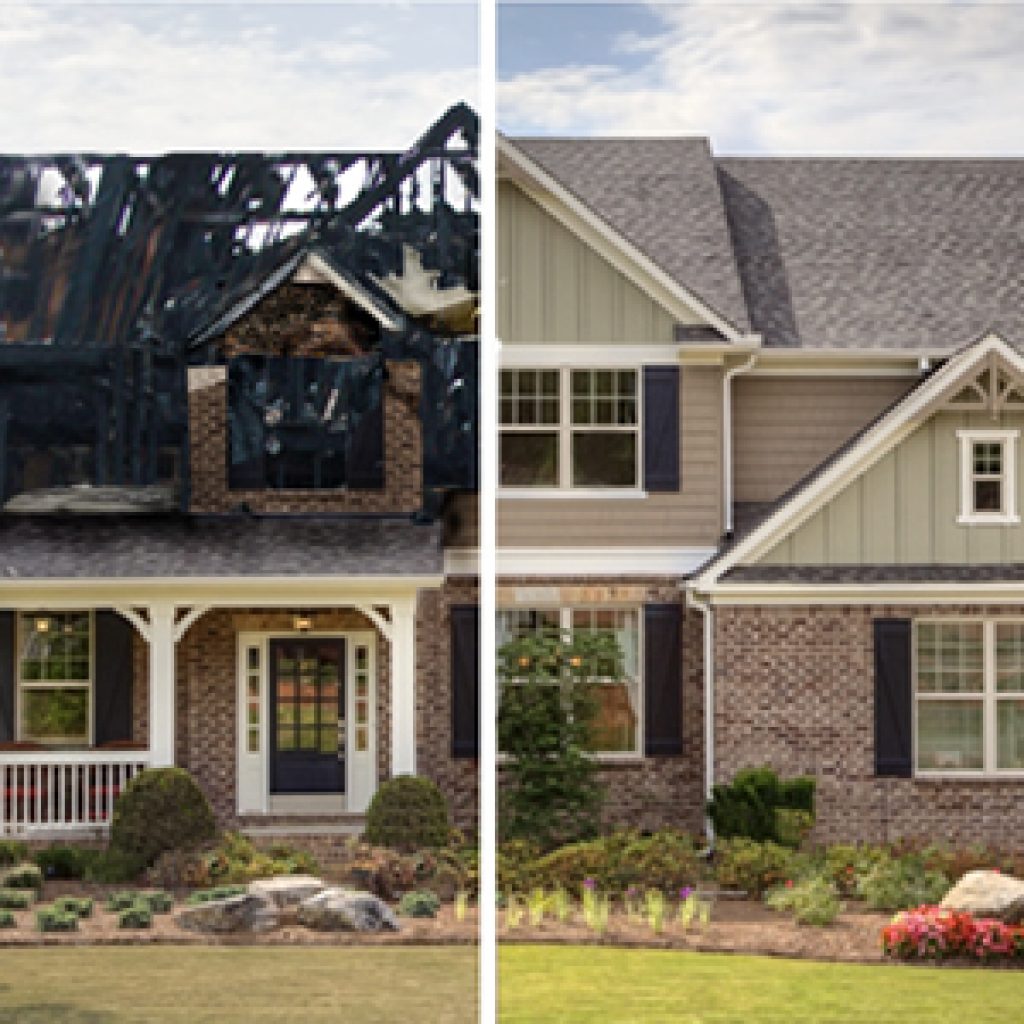 Call Today to Schedule Your FREE Estimate!